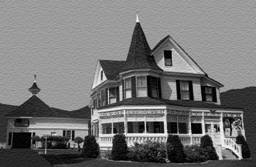 Mission Statement
The Gibson/Woodbury Charitable Foundation was established in 2010 to support the ideals of its founders, Harvey D. Gibson, Helen W. Gibson, Wendell D. Woodbury and Evelyn S. Woodbury. The Foundation's mission is to enhance the vitality and wellness of all Mount Washington Valley residents through charitable giving to established non-profit organizations.
Grant Funding Guidelines
As a private community foundation, we do not limit our grant funding to a particular field of interest or organization. Instead, we seek to focus on the core ideals of our mission statement, with equal access to all who apply for funds. We generally will not consider more than one proposal from the same organization within a 12-month period.
The Gibson/Woodbury Charitable Foundation welcomes grant funding requests from non-profit organizations serving the Mount Washington Valley in Carroll County , New Hampshire , as well as non-profit organizations serving Fryeburg , Maine . All applicants must provide a copy of a letter from the Internal Revenue Service confirming that the applicant is exempt from taxation as an organization described in section 501(c)(3) of the Internal Revenue Code. Each year the Foundation receives and reviews many more worthy requests than we can fund.
All grants that are approved, will be subject to post-grant reporting requirements that will enable the Foundation to determine that grant funds have been timely expended for grant purposes as approved by the Foundation. Post approval reporting requirements will vary based on the nature of each grant and the proposed project timeline. Failure to satisfy grant conditions will result in a withholding of future grant funds and/or repayment of previously paid grant funds.
In general, funding requests are not granted for:
Annual operating support (including salaries)
Individuals
Media or publications
Conferences or symposia
Religious organizations for religious purposes
City or State governments
Emergency situations that occur after our 2 yearly application deadlines
How to Apply
The Gibson/Woodbury Charitable Foundation's Trustees & Advisory Board considers grant funding requests on a semi-annual basis. The deadline for submitting applications are:
5:00PM on May 15th for our June 30th grant funding date
5:00PM on November 15th for our December 31st grant funding date
Only one copy of a grant funding request should be submitted by mail to:
Executive Director
Mark Butterfield
The Gibson/Woodbury Charitable Foundation
P.O. Box 406
North Conway , New Hampshire 03860
The format for grant funding request should only include the following:
A brief (2-pages or less) summarizing cover letter which describes your organization and the proposed project and/or use of funds that you are requesting signed by your organization's president and/or executive director.
A current organization budget with attachments, including

A copy of your organization's most recent IRS 501 (c) (3) ruling
Prior 2 years financial statements, we would prefer an independently audited statement, (e.g. compilation, review, or audit.) if available.
Applicant must disclose "all pending or threatened litigation or unasserted claims and assessments probable of assertion against applicant." The disclosure should include an estimate of the monetary exposure to applicant including reasonable costs of defending claims whether asserted or unasserted. The foundation may request an opinion of applicant's legal counsel prior to considering the grant application.
A completed Grant Application.
Incomplete or late applications, including late attachments, will not be considered.
Click Here To Download Printable Version Of Grant Application